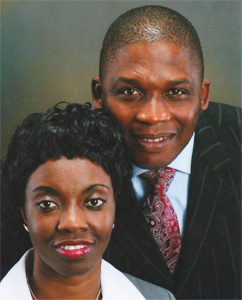 Just before departing Singapore for United States in December, 2008, Yomi's supervisor, Mr. Sabar, had told him over lunch that he (Yomi) was going to the United States to preach the gospel of Jesus Christ. Yomi laughed hysterically. Sabar, a heavy drinker and a nominal Christian at best, could not be taken seriously. Yomi realized within a year of his arrival to US, that if God could speak through the mouth of a donkey (Numbers 22:22-35), then He can speak through any man. The Lord spoke to Yomi by prophesy and revelation about His calling upon his life.

Pastor Yomi, ordained in August, 2004 as a pastor in Christ Apostolic Church (CAC) Worldwide is a teacher, a humanitarian and an evangelist by calling. He has taught Sunday School in CAC of America, Chicago under the pastoral leadership of Pastor Joshua Owoeye and Fellowship Covenant Church, Bronx, New York under the pastoral leadership of Reverend Jerry Moresby (of blessed memory). He also served as pastor under Pastors Johnson Ogunwuyi and Timothy Adelani at CAC Manhattan, New York and Pastor Timothy Agbeja of CAC House of Praise, Hyattsville, Maryland.

In 2004, Yomi founded Harmony International Ministries, a humanitarian organization that supports the Gift of Health project in the Dominican Republic and the Gift of Education project in Nigeria. Pastor Yomi has preached the gospel on public transportation buses in Lagos, Nigeria, on trains in Chicago, Illinois, in settlements/villages along the fly river from Kiunga to Port Moresby in Papua New Guinea, on board ships in Singapore, Malaysia, Vietnam and Cambodia, and on flights during his many travels.

In a trance in February, 2007, the Lord asked him to start a church in Baltimore. Within a month and with only his wife, two year old daughter and himself to count as members, he launched out to plant Christ Apostolic Church – Agape Fellowship in the heart of Baltimore City. By the time the best replica watches church had its inaugural service on May 5, 2007; two families (ten people) had joined the church. Indeed, God is faithful.

Pastor Yomi has a bachelor's degree in marine engineering from State University of New York Maritime College and a Master of Science in Project Management from Stevens Institute of Technology, Hoboken, New Jersey. He is also a graduate of International Bible Seminary, Plymouth, Florida. He is married to Toyin and they have two children, Mary and John.